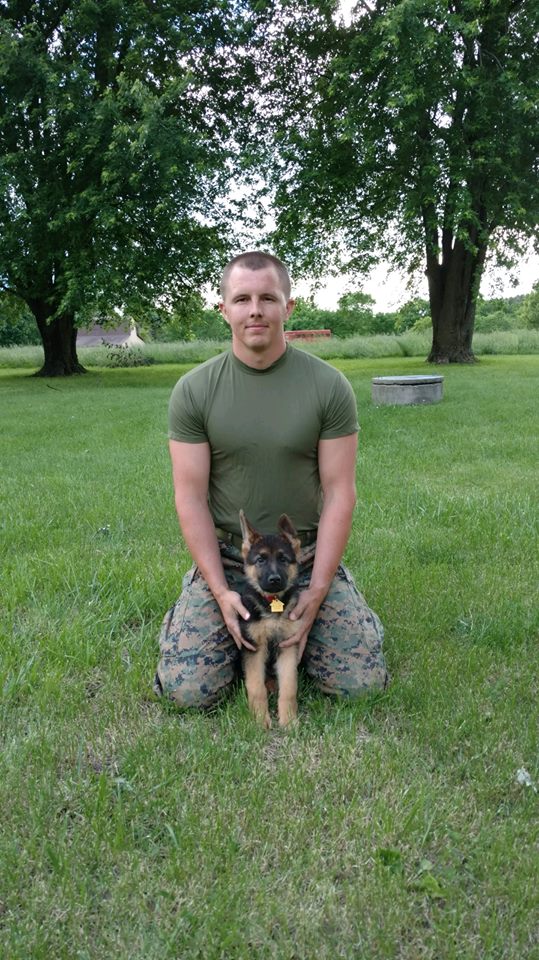 Shield Kennels is honored to dedicate a German Shepherd puppy to Danny Reetz. This young man put his life on the line to serve and protect our Country.
Danny went to Marine Corps boot camp in June 2009 Graduating and claiming the title of marine in September 2009. He then went on to become an Infantry Assaultman during his time at the school of Infantry in Camp Pendleton in California. Following graduation from the school of Infantry and was stationed in Hawaii at MCBH in November 2009. In early 2010 he deployed to Helmand province in Afghanistan for approximately 7 months and on the way home got promoted to Lance Corporal. He was again deployed back to Afghanistan in October 2011 –April 2012 picking up the rank of Corporal meritoriously throughout the deployment. He had one more deployment to Australia in 2013 where his unit worked and trained the Australian Army. Danny returned home in February of 2014, shortly picked up the rank of Sergeant, and is currently a student and Simpson college receiving a double major in Exercise Science and Physical Education.Danny's family contacted us to see what litters we had available.
After hearing he just lost his GSD that he got after serving, we decided he would be great for the 2017 2nd Shield Kennels Dog Donation.

We invited Danny and his fiancée (Now wife) Morgan to come visit Shield Kennels. It happened to be a week after Storm von Shield delivered puppies. They decided they wanted Baron von Shield from IntCH Gino Pekelny Svet (Fury) and Storm von Shield whose call name would be so fitting as Major.

The Shield Kennels Family thanks Danny for his service and all military personal on this great weekend and especially those who gave it all.